Disney hotels/resorts | Search all Orlando properties
Disney scores with golf courses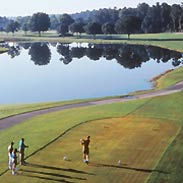 Walt Disney World offers tour-caliber golf on five championship courses and one nine-hole course.
The Disney courses are:
Lake Buena Vista: Styled in a classic country club setting, the Lake Buena Vista course meanders through dense pine forests as well as the Resort's residential areas and is characterized by small, slightly elevated, well-bunkered greens that demand accurate shot-making.
Eagle Pines: Low, "dish-shaped" fairways and vast sand beds give this Pete Dye design a unique look and an equally unique challenge. This low-profile course follows the natural contours of the land, and, in place of grass rough, pine straw and sand await errant shots.
Osprey Ridge: The beautiful tropical wilderness surrounding Osprey Ridge may create a serene atmosphere, but it will challenge the player from the moment the first tee shot is hit.
Magnolia: The Magnolia is the longest of the Disney courses. Designed in classic Tour-style, the wide fairways invite you to hit the ball, and hit it hard! But bewareŚ11 of the 18 holes boast water, and 97 bunkers dot the landscape and guard sizeable, undulating greens.
Palm: The natural beauty of the Florida woodlands makes the Palm not only a pleasure to play, but also one of Disney's toughest courses.
Oak Trail: This nine-hole, par-36 walking course, is located by the Magnolia golf course.