Get hooked on Florida fishing
With almost 1,200 miles of coastline, 12,000 miles of rivers and streams, almost 8,000 lakes and 2,100 marinas, Florida is paradise for fishing and boating enthusiasts.
Whether you are lured by the tranquility of freshwater lakes or the excitement of saltwater pursuits, you'll find what you're looking for in Florida.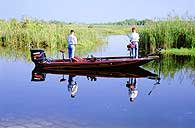 Rivers, lakes and freshwater canals maintain a constant flow of fish like bass, crappie, blue gill and catfish.
Commonly used tackle includes cane poles, plug casting reels, spinning reels and fly rods, and baits range from live worms and shiners to plastic worms and crank baits.
For seemingly never ending freshwater fishing, take to Lake Okeechobee, where, at 730 square miles, it is the second largest freshwater body completely within the borders of the United States. Redear sunfish, giant catfish, crappie, bass and snook are yours for the taking, and even some Oscar are hiding in the marshy areas.
You can purchase a fishing license at the county tax collector's office, subagents such as tackle shops, fish camps, hardware stores and sporting goods stores, through the state's new toll-free phone number (1-888-FISH-FLORIDA)* or the state government website.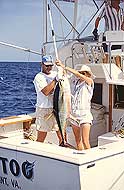 Angling Florida's sea waters can be highly productive throughout the year whether fishing from the beach, piers or bridges, or by boat in the flats or far offshore.
Emerald waters in the northern part of the state are perfect for catching blue marlin and tuna, and in the deep waters you'll spy cobia, king mackerel and a few different types of sharks. Oyster beds of the Gulf coast will net kingfish and pompano, while further south, the dark blue ocean off the coast of Sarasota south to Naples are home some of the largest Tarpon in the hemisphere.
On the Atlantic Coast, grouper, sheepshead, red snapper and flounder are common finds. Off the coast of Jacksonville, great amberjacks more than five feet in length and more than 170 pounds are known to make spectacular appearances. Snook, red drum and barracuda are other sport fishing delights.
The warm tropical waters of Southwest Florida and the Florida Keys host snapper, jewfish, grouper, cobia, tripletail, bluegill and bass. In fact, the Florida Keys are home to more than 225 species of game fish with plenty of dolphin, permit and wahoo to go around.
Don't forget "inland" saltwater fishing, either. The back bays and canals always yield a good catch. Patrol along the mangroves and docks to hook snook, trout and maybe even a tarpon in the winter months.
For current Saltwater Fishing Regulations visit the Florida Fish & Wildlife Conservation Commission Marine Fisheries site.