Epcot combines culture, interactivity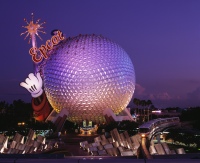 At Epcot at Walt Disney World, you can celebrate the fascinating cultures and numerous wonders of the world around you through dazzling shows, interactive experiences and amazing attractions.
Epcot features pavilions from Canada, China, France, Germany, Italy, Japan, Mexico, Morocco, Norway, the United States and the United Kingdom. Each pavilion reflects the history and culture of its nation.
Top attractions include:
Mission: SPACE -- Each member of your astronaut team has a challenging role in a dynamic and daring cosmic mission dodging meteors and navigating nebulae.
The Seas with Nemo & Friends -- Cruise out to sea in the clamobile. Greet all your Nemo pals as they swim amid the live marine life of the gigantic aquarium.
Test Track -- Strap yourself in to race up bumpy terrain, roar through hairpin turns, speed into freezing cold chambers, and rush on to 50-degree banked curves at 60 mph.
The Living Seas -- Dive below the waves and discover a magical world of water-filled wonder in one of the largest man-made ocean environments.
Honey, I Shrunk The Audience -- Professor Wayne Szalinski is at it again and this time you're the one who gets shrunk.
Journey Into Imagination With Figment -- Take a rollicking ride through the Imagination Institute, where that playful purple dragon Figment really puts you to the test.
Spaceship Earth -- Step into the world-renowned 180-foot-tall geosphere to explore the stirring story of human communication.