Lights, camera, Disney-MGM Studios
At Disney-MGM Studios, you can see the world of showbiz -- from the Hollywood classics of yesteryear to the best in popular entertainment. Take center stage as the star of your own adventure: from rock 'n' roll fantasy to Broadway-style stage spectaculars, from the silver screen to the TV screen to behind the scenes. Top attractions include: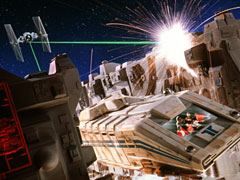 Star Tours - the ultimate Star Wars thrill ride -- Board an intergalactic simulator for a turbulent trip through outer space. With an absent-minded droid in the cockpit, you're in for warp-speed near-misses, collisions with comets and high-flying excitement.
The Twilight Zone Tower of Terror -- Brave the creepy facade of a once-glorious hotel for a jolt back in time. Board a phantom elevator, shoot up 13 stories and brace yourself for a thrilling plummet. You rocket back up, only to plummet down yet again.
Rock 'n' Roller Coaster® Starring Aerosmith -- Aerosmith's having a backstage party across town and you're invited. Ready to brave the LA freeways? Zoom from 0-60 mph, take in high-speed loops and turns synchronized to a specially recorded Aerosmith soundtrack and zip through Tinseltown in the biggest, loudest limo you've ever seen.
Playhouse Disney - Live on Stage! -- Join your Playhouse Disney pals for stories that enlighten and inspire. Bop along to playful tunes and enjoy surprises and guest appearances from Bear, Tutter, Pip and Pop, Stanley, Pooh, JoJo and Goliath.
-- Experience all the action, romance, music and magic of "Beauty and the Beast" in an elaborate, enchanting musical spectacular.
Disney-MGM Studios Backlot Tour -- Brace yourself for an all-out special effects encounter with a water tank in "Harbor Attack," then board a guided tram ride for a look at life-like façades used in exterior shots from familiar television shows and movies.
Voyage of The Little Mermaid -- Journey into the magical world of dancing fish, calypso-ing crabs and curious merfolk in this thrilling theatrical experience. Join Ariel for an exciting voyage from the ocean floor up to where humans live.
Indiana Jones Epic Stunt Spectacular! -- Thrill to the pulse-pounding explosions, crashes, clashes and death-defying stunts of Indiana Jones' onscreen adventures.
The Great Movie Ride -- Go behind the silver screen to witness great movie moments captured in time with thrilling film clips and lifelike Audio-Animatronics figures.
"Honey, I Shrunk the Kids" Movie Set Adventure -- Climb, crawl and explore in this larger-than-life interactive playground where anthills are mountains, LEGO® bricks are hiding places and blades of grass tower like trees.