Disney hotels/resorts | Search all Orlando properties
Downtown Disney rocks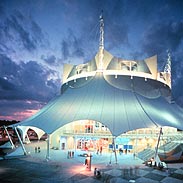 Downtown Disney is a metropolis of fun, featuring the best in entertainment, shopping and dining.
Among the attractions are:
Cirque du Soleil -- La Nouba: With spellbinding intensity it astounds and amazes, a kaleidoscope of impossible daring and artistry.
Pleasure Island: On this party island, you can boogie away to the music made before CDs were around at 8TRAX. Laugh it up at the Comedy Warehouse or wallow in the silky-smooth sophistication of the Pleasure Island Jazz Company. Check out the featured live entertainment on Pleasure Island main stage or just stroll through the shops and soak in the atmosphere of all the Pleasure Island clubs.
DisneyQuest: Experience the first-ever indoor interactive Theme Park. It's a wildly imaginative wonderland featuring the highest of high-tech fun for kids and grownups. Shoot the rapids in a virtual prehistoric world. Hop into a simulator and ride a roller coaster that you design. Fly a magic carpet through an ancient city. Sail into the virtual world of the Pirates of the Caribbean. And record your own CD at Radio Disney Song Maker.
AMC Pleasure Island 24 Theatres Complex: The largest theater complex in the Southeast, with more than 6,000 seats.
House of Blues: It's authentic Mississippi Delta cookin' spiced with live music every night, including blues, R&B, jazz, country, swingin' gospel, and more. Top artists perform in the music hall, while Sundays feature the inspiring Gospel Brunch performances.