Disney hotels/resorts || Search all Orlando properties
Plenty of cool fun at Water Parks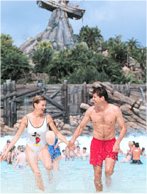 Splash down in a world of fun at either of Disney World's two exciting water parks:
Blizzard Beach: Florida sun meets alpine snow in the coolest Water Park around. Legend has it that a freak snowstorm resulted in Florida's first ski resort, but when temperatures rose, the Florida sun turned the ski runs into water slides. Now, the thrills peak high atop some of the highest slides on earth including the Downhill Double Dipper, the Slush Gusher and Tike's Peak.
Typhoon Lagoon: Disney legend has it that a furious storm once roared across the sea, hurling surfboards into trees, blowing small boats through roofs and impaling a shrimp boat on a peak of a great volcanic mountain. Left in the typhoon's wake was a water park filled with twisting tides, roaring rapids, wonderful waterways and relaxing rivers. Dive into an exotic, tropical paradise where families can escape to high waves of excitement and cool, relaxing fun. The fun takes place at the foot of Mount Mayday. Body surf in a 2.75-million-gallon wave pool. Zip down awesome body slides.